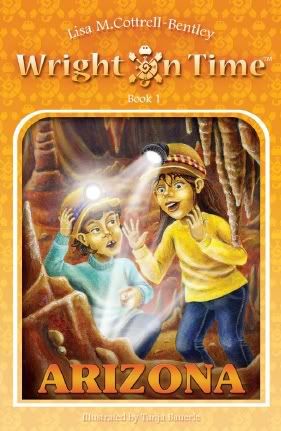 Author: Lisa M.
Cottrell
-Bentley Illustrator:
Tanja
Bauerle
Ages 5-12+ Retail price: $12.99
I really wish there were more books about kids who are
homeschooled
! In
Wright on Time
Lisa
Cottrell
-Bentley is gearing up to write a whole series! These books are about a
homeschool
family who travels all over in an RV. A highly educational series, each book is going to focus on a different state and readers will get to learn and apply science and history knowledge as the Wright family travels!
My kids learned about
stalactites
and stalagmites and we actually looked up some pictures of gems and minerals because their interest was so peaked! I'd love to take a trip to the caves in South Texas with them now that we have read the books.
Here's my request for the author: let us know what the topic/learning interest will be so we can turn the
Wright on Time
books into a wonderful addition to a mini unit study! I'd love to have a study guide with non-fiction resources! These books are such a
brilliant
idea; I just keep thinking how the series could be expanded. What a great AND FUN resource these books will be to a
homeschool
curriculum
.
The books are really ideal in that they are really appropriate for a wide age range. Lisa doesn't talk down, or kid-up the language or subjects. I liked how she didn't define and explain every little educational element like some "educational" chapter books do - you almost need to go look some things up. It is getting harder to find books to read aloud that interest all my kids, but even my oldest liked this book. We weren't too crazy about the cliff-hanger ending, we were hooked without that.
Links:
http://www.wrightontimebooks.com/
This is a great site to explore and learn more about the books. You can already get book 2, which features Utah - and it looks like dinosaurs and archeology are the topics for this one. I can't endorse that one till I see if it passes the "millions of years ago test." If it is written from a Christian perspective, I'd love to pair this book with a trip to the dinosaur dig sites in Glen Rose! You can purchase the books from this link:
http://www.wrightontimebooks.com/store/
*Thank you Mama Buzz and Lisa M.

Cottrell

-Bentley for providing the book for the purposes of review.