Product/Book Name:
Stories From History - Set of 11 Graphic Novels
.
Price: $16.95
Put out by:
Timberdoodle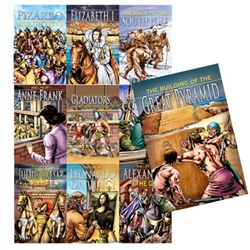 We have had such a good time reading
Timberdoodle's
Stories from History Graphic Novels
. The kids have just devoured them all week long! The girls loved them, but I think these are especially appealing to boys! Daniel (at 6) is now
fascinated
with gladiators and pyramids. The girls were highly impressed with all the great facts in the books -the whole series has a depth of information which was really surprising -
not dumbed down for the comic format at all
. You would
NEVER
get your kids to WANT to read a non-fiction book with this much information - but because it is illustrated with comics, they are begging for more.
What is so great about these books is I can see them really spanning a large age range of kids from 5 on up. I can also see this series as one my kids will return to again and again. Ally talked me into dropping her history curriculum for a while and taking one book at a time and reading it, writing about it, and if interest allows -looking up additional information. I can really see expanding each of the books into a week or two study in place of a traditional history book. It has made for easy curriculum for me during a busy month because they want to read them, I don't have to be as involved as I would if they were doing a traditional "lesson." It's no secret that kids learn more when they
want to -
and that is the true beauty of these books.
Timberdoodle
is a great source for some really cool educational toys, homeschool curriculum, and generally interesting stuff! The book about the discovery of t-rex was written from a secular perspective only due to the one line of "65 million years ago," (which my kids are used to) and we had to put some white out on a painting in the DaVinci book, but other than that - I think these books just might go on my top 10 most valuable homeschool library list - and that is saying something!
I must say these books have caused some problems as Daniel keeps carrying them off to his bunk bed so the girls can't find them.
This is the site that will link you to these books:
http://www.timberdoodle.com/Stories_From_History_Set_of_10_Graphic_Novels_p/332-600.htm
This is a neat link - it contains a list of all the other Timberdoodle graphic novels - they even have some really interesting looking science ones! I've got to get Daniel some of those! The stories from history can be purchased individually, but if you'll notice the $16.95 for 11 books comes to around $1.50 a book - that is an incredible steal for these books!
http://www.timberdoodle.com/graphic_novels_s/346.htm
and this link will get you to their main site for all kinds of unique homeschool curriculum and toys:
http://www.timberdoodle.com/
This is a Mama Buzz review. The product was provided by Timberdoodle for the purposes of review.