Product/Book Name: Potluck Survival Guide
by Cherie Kimmons
Price: $18.96, regularly $24.95
Put out by: Five Star Publications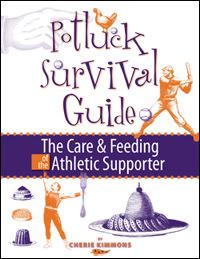 Okay, this is what happens to me...I am at a church or family dinner and there is this wonderful dish that my family loves -and I just have to the recipe. So, you track down the cook and ask about it. And this might be just me, but I get so confused -it starts out with, "oh, it is just so simple," then there's a rapid list of ingredients and all this talk of, "just a pinch of..." or "until it gets just right." Isn't that the way it is with the really good cooks? You can't blame them, they just have this natural sense of what to do - but, I need it in writing ...and most of the time even that's not enough. I end up on the phone with my sister where she explains the cooking for dummies version. I have a lot of cookbooks, but they just overwhelm me.
That's what this cookbook made me think of - having Mrs. Kim Watson, the greatest potluck and event queen of all time, right beside me telling me what to do. This cookbook is one
I
can actually use-it's like you have that great natural cook right beside you. There are some fabulous recipes, but what I love most is her little notes to the side - they tell you things like, "if you don't have this, use that," and "I tried this, but that tastes better," "to make it less spicy add this." She will have little notes that say, "do not substitute this ingredient - it won't taste nearly as good." That's what I hate about cookbooks - I don't have the natural cooking sense to know these little side things. I find the recipes I do use are the ones where someone explained some of these kinds of details to me.
The book was written to help with feeding large groups, especially athletes. Hence the subtitle which my husband giggles at every time he walks by it in the kitchen. The book is called
Potluck Survival Guide: Care and Feeding of the Athletic Supporter
. Byron thinks that is really funny because an athletic supporter is ...well, you know. Feeding huge groups of teens is something we know a little bit about in this house with all our years of feeding football teams and groups of students! My kids will always associate the smell of garlic bread with football teams. There is even a huge chart at the back that tells you how to prepare items for 12 and 25. I could go on and on about this book! There are all kinds of neat lists and ideas in the front, buffet tips and ideas, kid-friendly menus. I have tried several of the recipes, and they have been great! One I am anxious to try is the recipe for Fried Bread!
This is truly a great cookbook to have - so worth the price! If you would like to purchase one - go here:
http://www.fivestarpublications.com/book_detail.php?recordid=95
or here:
http://www.fivestarpublications.com/potluck/book.html
*This book was provided by Mama Buzz and Five Star Publications for the purposes of review.