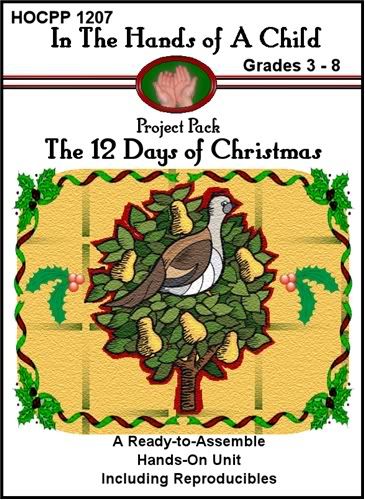 Product/Book Name: Hands of a Child/ 12 Days of Christmas Lapbook
Price: $12.00 for E-book/ $15.50 for printed copy (see link for other options, too)
Here's our 12 Days of Christmas Lapbook. Since I was sent the download, I could have printed a copy for each child, but we all just worked together on this one - and it went pretty well. They haven't finished coloring everything. I liked the math sections best - they calculated the total number of gifts, and even converted recipe amounts. Last year the girls memorized the actual 12 days of Christmas hidden Biblical meanings, so this made for a great refresher.
I only just discovered lapbooks last Spring, but I SO love them! What an awesome way to include children of all levels learning together at the same time. I have bought a few lapbooks from different places, and found some on free sites, I also download plain lapbook components and have the kids create their own lapbook as a report.
All of the HOAC Lapbook kits come with instructions, and details with all the background information -so you can teach the material, all the lapbook parts to print out, and photos of what the finished product should look like.
There is also another set HOAC offers for preschool-1st graders called 12 Days of Christmas Fun, which is for younger kids, what a great companion to this kit if you have kids of both age groups! What a great way to allow the little ones to join in!

I felt like this lapbook was a bit more complicated to figure out than most of the other HOAC Lapbooks I have seen. There were more intricate parts to cut out than most, but granted it was for the older age group! I guess my kids are old enough to do the cutting and preparing themselves. When we do a lapbook, I do a lot of the cutting and get everything set up -the kids just do the filling in.
I think this lapbook is a good value for just $12.00. With that price you get 49 pages of lapbook components and information, and since it is a download you can print multiple copies. My favorite thing about hands of a child lapbooks is all the incredible options they offer! Not only can you purchase the e-book, printed book, or CD of the lapbook, but they also offer an e-book with a type it in feature so your child can type in answers and then print the lapbook. Several other neat options are available at the link below.
This is a Mama Buzz review. The product was provided by Mama Buzz and Hads of a Child for this review.