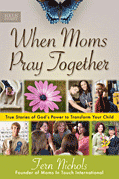 When Moms Pray Together
by Fern Nichols
Put out by:
Tyndale
Price:
$13.99
Book Info (as taken from the Tyndale site):
Moms in Touch International is an organization that brings moms together to pray for their children and their children's schools. As
MITI
prepares to celebrate its 25
th
anniversary, Fern Nichols, the founder and president, has collected some of the most inspiring and encouraging stories of God's work in answer to those prayers.
When Moms Pray Together
will inspire and equip mothers to pray more consistently and hopefully for their children while encouraging them through the stories from moms everywhere.
Disclosure:
Mama Buzz- and reviewers -received a complimentary copy of this book for blog tour purposes.
What a great book this is!
When Moms Pray Together
chronicles some exciting stories of moms and their prayers and journeys with their children. Different women share throughout the book how the organization Moms In Touch affected the lives of many families by providing a prayer community to believe together. Each chapter tells a different story of a mom and her experiences with her children at any point birth to adult age- everything from learning difficulties to suicide.
All moms face times when we despair over our children in some way, and we all certainly know of many families who face seemingly hopeless situations within their families.
When Moms Pray Together
is a great resource for hope and encouragement. It inspires me to become stronger in my efforts to focus prayer on each of my children individually. The writers of each chapter share in such a vulnerable way about different things they did as they stood on God's promises for their children, verses, and even the feelings of guilt, shame, and despair they experienced as a result of their children's actions. Several moms talked about praying scripture specifically, and the importance of joining with other women to pray - if possible with moms facing similar issues.
The chapter that hit me most was the last in the book, called
Hope for the Moms of Prodigals
. I know so many prodigals who have run away from their faith, and I know so many moms who are hurting because of the actions of these children - and my heart breaks for them both. In so many cases, they are good families where it would seem their upbringing was ideal, yet they walk away from the faith and values they have been raised with. The story of this family will encourage you if you are in need of strength.
The book reaffirms that God does hear our prayers, that there is power and strength in Him, and you should never give up hope. God's word will never return void. I love what the mother who shared the story of praying for her prodigal son did- she would pray the following scripture with her son's name in it. "You will give (him) a heart to know you, that you are the Lord. (He) will be your people, and you will be (his) God, for (he) will return to you with all his heart." Jeremiah 24:7
Such a powerful book. Totally loved it!